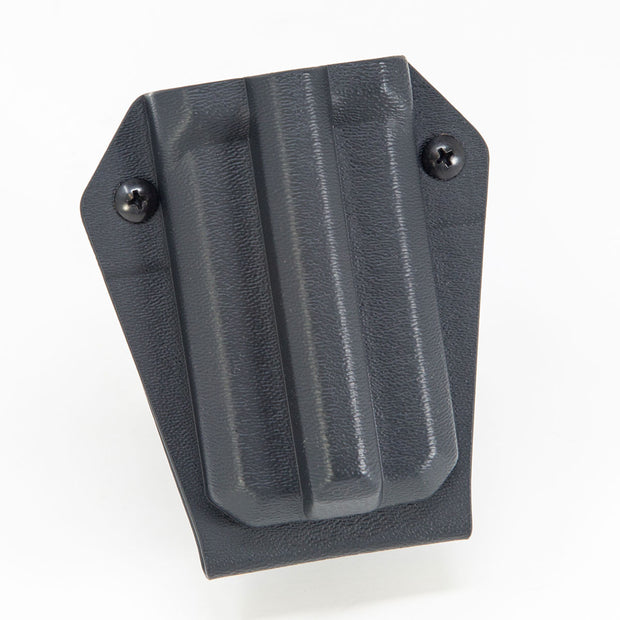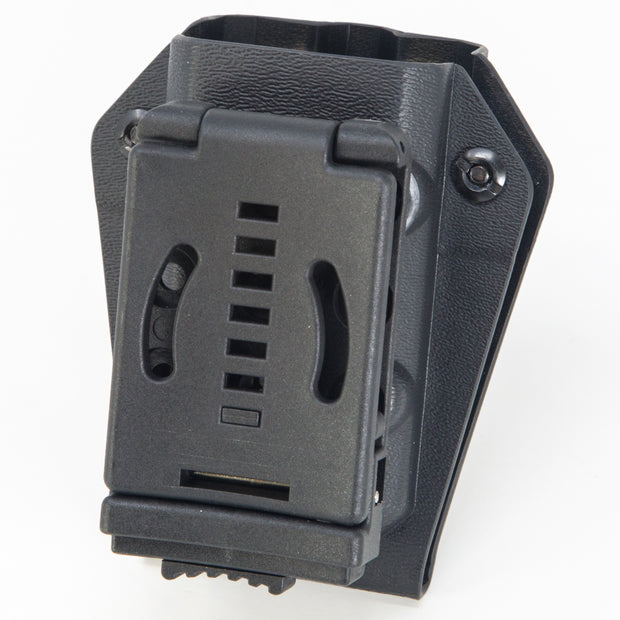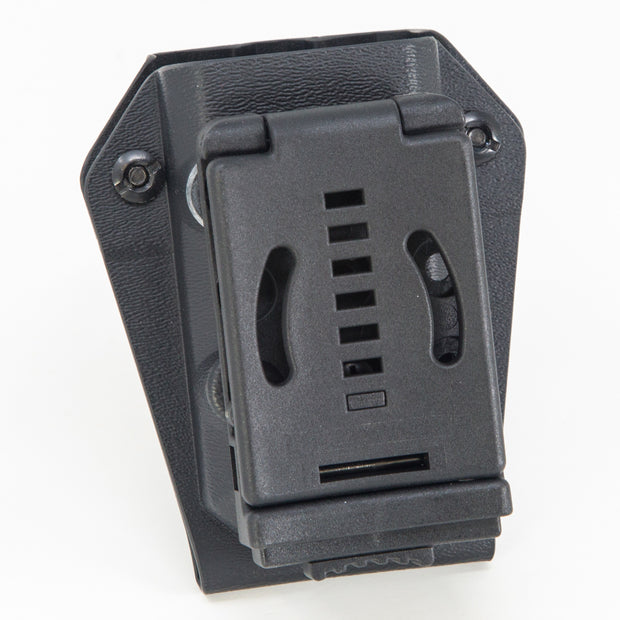 Fits on any Duty Belt.
Easy to Remove for Multiple Set-ups.
Custom fabricated to fit the SOFTT-W Tourniquet carried by most law enforcement agencies.
Makes it easy to carry our Soft T Tourniquet as part of your belt set-up
Carrier will fit on any duty belt and is very easy to remove if you have multiple set-ups.
Adjustable retention as each tourniquet varies slightly by the way it is folded.
Made out of .080" thick kydex to stand up to the abuse of everyday use on the job.
Fits belts up to 2.25"
* Because each of our products is individually made-to-order, please allow 2-3 weeks processing time.
* Tourniquet not included
Contact us for department-wide bulk orders.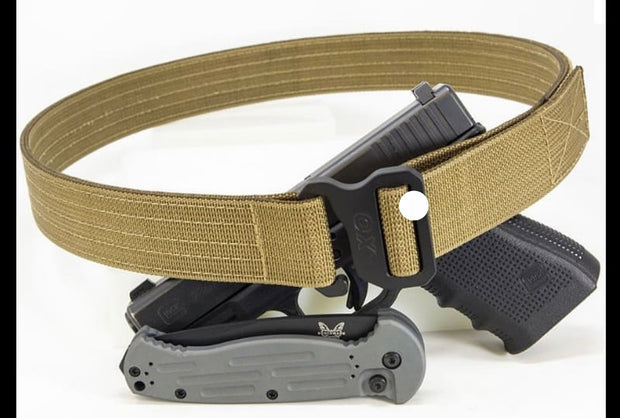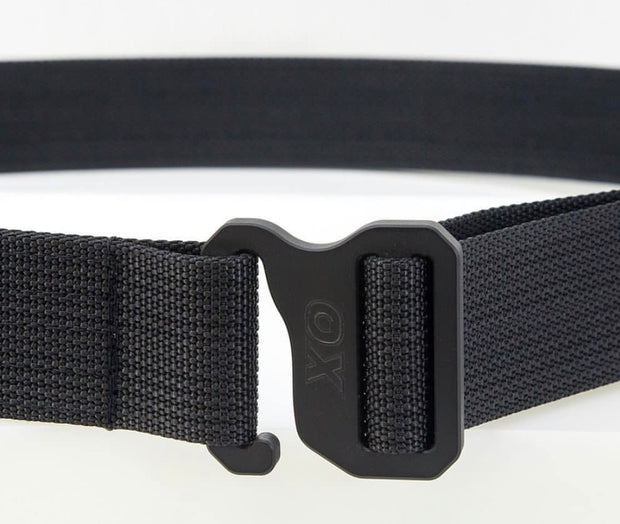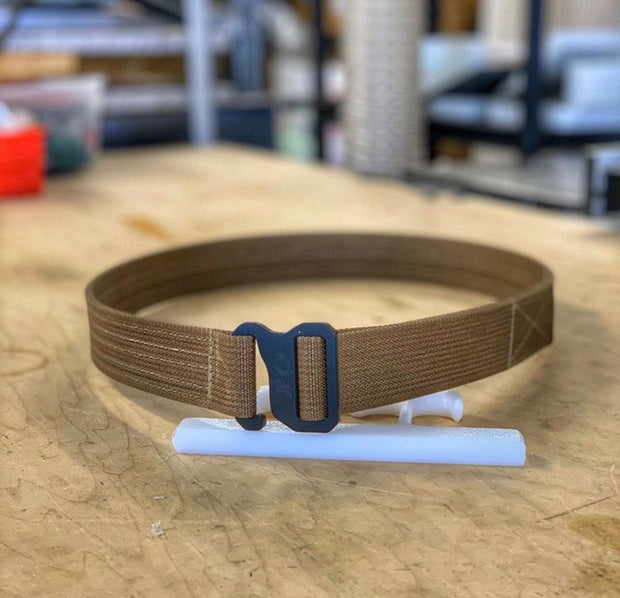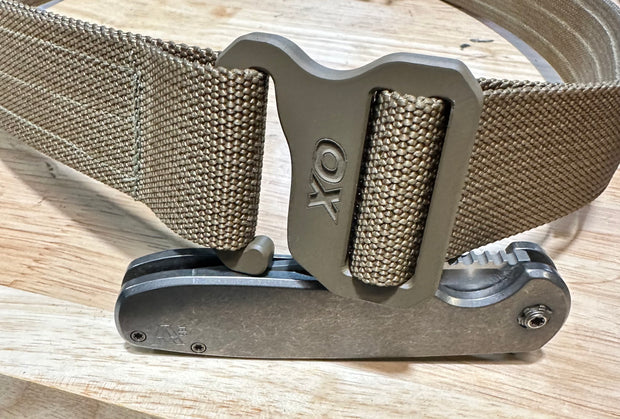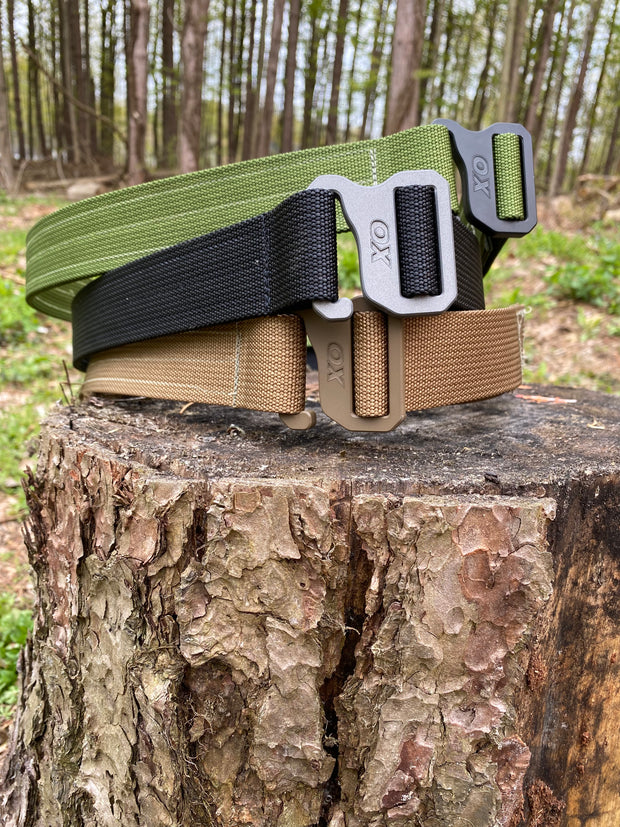 The OX Belt was designed to fix all the problems that come with every other carry belt.  I wanted a belt that would stand up to the abuse of everyday carry, be rigid enough to securely carry a firearm, yet flexible enough to be comfortable to wear all day, every day.
After testing each type of scuba webbing I could get my hands on I finally found the perfect one.  The 1.5" wide webbing is resin infused to give the support needed to hold your firearm exactly where you put it, while still being flexible enough to be comfortable whether you are sitting in a car for hours or building your dream home.  The next issue I wanted to fix was the buckle, the mini G-hook is favorable, but leaves much to be desired.  For example there's a long unsecured 1" piece of webbing that gets in the way when trying to put the belt on or taking it off, which leads to twisting, and turns into a mess.  Cobra buckles look cool, but who has the time to take the buckle all the way off the belt, and then re-thread the buckle every single time you take the belt on or off?  This is where the OX buckle shines!  I designed this buckle from the ground up, to not only be functional and easy to use, but looks great at the same time! The original full size G-hook is made 100% in-house.  I machine the buckle from 6061 aluminum, deep engrave the logo, hand finish, and Cerakote each buckle.  You no longer have to remove your buckle to put on or take off your belt, plus there are no frivolous features or parts to the buckle that end up breaking.  Just like our holsters, you will get that positive click to know your belt is secure and won't come undone until you want to take it off. 
********BELT SIZING********
Order the size of belt that corresponds to your waist size you wear in jeans.
Belts will come with a buckle in the corresponding color
Tough belt! Worth every damn penny.
I bought my belt from David years ago, (hell I don't even remember how many years ago) and have literally worn it every single day of my life ever since.
I bought mine back when there were two choices, the "Semi Rigid" and the "Rigid". I went with the rigid and glad I did.
This is not just my EDC belt, I am an industrial electrician and I wear this belt every single day whether my pants need it or not. All these years later from all the heat and sweat from working outside in Florida and it is just as stiff today as it was when I bought it. Put it to you this way, when I'm at work, I can hang two 18v Milwaukee, full-size drills with the 5.0 batteries, one on each side of this belt and it doesn't stretch or flex, or start to sag my pants whatsoever.
The clip has been one of the most satisfying design aspect of this belt. From the first time I heard that positive click, I knew I was going to love his belt. I've used mine so much that I've actually started to wear some of the edges down of the aluminum but there's still enough meat left on the clip probably for another eight years. Haha.
I'm definitely one of those people that is a creature of habit and becomes very attached to every day things like this. Thanks for the rocksolid belt bro.
Great Belt
First and foremost, great customer service! Had an issue with sizing and the problem was handled immediately. The belt is super comfortable and built to last.
Great belts!
I'm very happy with the OX Belts! They are just the right stiffness and have become my daily use belts.